THE ROLE
Tour Operations Manager
Part-Time Position | 12 – 16 Hours per Week
REPORTS TO
Owner | Founder
COMPENSATION
$18 – $22 per Hour (based on experience)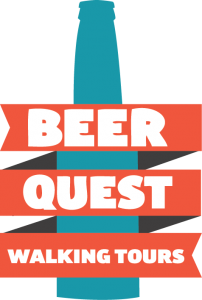 Our Quest | A unique craft beer experience
BeerQuest Walking Tours aims to provide the most exciting entertainment while exploring Portland's best pubs and breweries on foot. Whether guests are on vacation exploring a new city or are on a staycation hoping to shake things up at home, we lead the way in tasting vibrant, award-winning beer and sharing riveting storytelling.
Description
The Tour Operations Manager will oversee all tour and office operations for our small and growing walking tour agency. The role will be lead customer service and business representative. Job duties include expertise in systems creation and development to help increase the overall success of the company.
We are seeking a fun, dynamic, and professional personality to manage our business operations as well as lead 1+ tours per week. This position allows you to work remotely (from home).
Duties | Responsibilities
Customer Service | Relationship Management [60%]
Provide exceptional customer service for all tours and business operations

Communicate daily with prospective customers, guests, and partnering pubs/breweries via phone and email

Solve any post-tour issues with guests, partnering establishments, tour guides, etc.
Office & Tour Operations [40%]
Lead 1+ tour per week and act as a lead backup tour guide

Remotely manage a team of 4+ tour guides via phone, email, and in-person

Recruit, interview, hire, and train new tour guides

Run monthly staff meetings

Plan quarterly employee wellness events

Maintain office operations and procedures

Payroll, Tour Supplies, Vendor & Partner Relations, scheduling etc.

Manage tour calendar including booking private tours

Coordinate with partnering pub destinations about upcoming tours and guest numbers

Help improve guest experience on existing tours (Haunted Pub, Criminal Masterminds, Brewery Tour: Old Town District, Private Beer & Board Games)
Potential Growth Opportunities
Our goal is to hire someone who will eventually take on more responsibilities and have a growing role in the company. Additional duties may include:
Assist and coordinate existing marketing efforts

Distribute online and physical marketing promotion (flyers, etc.)

Research and implement new marketing campaigns to increase guest bookings

Manage website and social media platforms

Create new office systems and workflow organization processes

Input customer data, financial information, timecards, etc.

Create and develop new craft beer experiences in Portland, Oregon

Research history and information for tour content

Build, maintain, and enhance existing and new relationships with pub destination contacts

Negotiate rates, discounts and cost with vendors

Create new and maintain existing relationships with local organizations, hotels, companies, etc. in the tourism and beer industry

Attend networking events and tourism industry events
Requirements | Qualifications
Passion for history, ghosts, beer, and the craft beer industry

Knowledge of brewing and beer-making process

Technologically proficient (ability to use Microsoft Word, Excel, Google Docs, etc.)

General knowledge of downtown Portland

Strong verbal and written communication

Exceptional organizational skills

2+ years experience in customer service

Experience in public speaking and working with large groups

Self starter and ability to take initiative to accomplish tasks

Office management and event planning experience desirable

Must be available to work weekends, holidays, and evenings

Long-term outlook and interest in growing with our company
It's also helpful to have:
Cicerone Certification

OLCC Alcohol Service Permit

Knowledge of Portland's local history
This position requires you to own a mobile phone and have daily access to reliable internet via laptop or desktop.
Ability to receive daily phone calls

Ability to access reliable internet and check email daily
Hours
Part-time position, starting at 12-16 hours per week. The ideal candidate would be interested in growing with the company and eventually taking on more responsibilities and additional hours.
Compensation
$18 – $22 per hour, depending on experience.
A Successful BeerQuest Team Member Is…
To Apply
To apply, please email tyler@beerquestpdx.com and explain why you want to join the BeerQuest Walking Tours' team. Include a cover letter, resume, and three professional references.
Write "[Your full name] |[Your favorite beer] | TOUR OPERATIONS MANAGER" in the subject of the email.
This is a part-time position (no full-time available at this time). Must be at least 21 years old and eligible for employment in U.S. We are an Equal Opportunity Employer. Qualified applicants are considered for employment without regard to age, race, color, religion, sex, national origin, sexual orientation, disability, or veteran status.